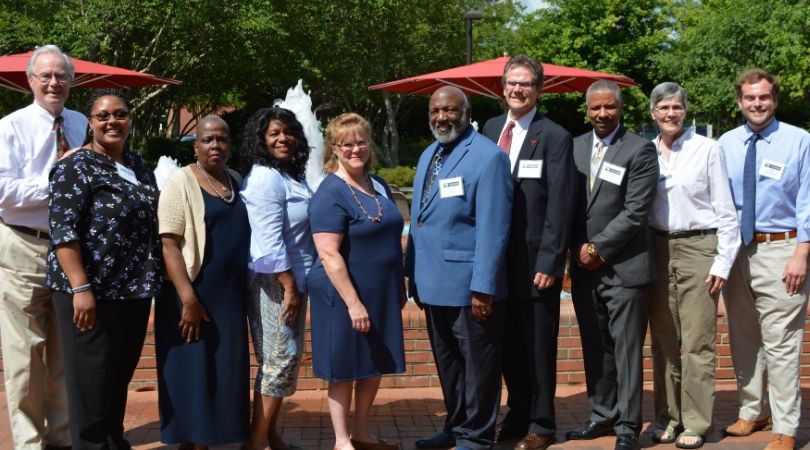 Nicole Augustine
Nicole.augustine@abc.nc.gov
(607) 227-7912
Metrolina
Nicole Augustine has been involved with substance-use prevention work since she was introduced to public health in college. She is currently on the board of PTTC (Prevention Technology Training Center), creating resources for prevention specialists to equip them with the tools they need to be successful. Nicole wants to unite coalitions and other community groups across the state to work together to stop underage drinking. She believes the key is focusing on parents as gatekeepers and pushing them to be positive role models with youth while providing them with resources to start those important conversations. The science behind underage drinking and the lasting effects it can have are often not used as much in these conversations. Nicole knows the climate of alcohol is ever-changing, and because of that, it's important to continue to provide good information and resources to parents, schools, and community groups.
Dr. Wanda Boone
Wanda.boone@abc.nc.gov
(919) 491-7811
Triangle and Northern NC
Dr. Wanda Boone is passionate about the dangers of underage drinking. Very early in her life, when faced with difficult life events, Wanda began to self-medicate with alcohol. Now Wanda has made it her mission to help others realize that they can have healing in their lives without alcohol. Wanda firmly believes that families and community members are key to changing the next generation. Wanda also believes that healthy peers can have a positive impact on an adolescent's life. Wanda Boone has worked in the prevention field for over 30 years and has been the director of Durham Together for Resilient Youth for 15 years. She is excited to extend her reach in North Carolina through working with Talk It Out and connecting community members together for the common good.
Michael Dublin
Michael.dublin@abc.nc.gov
(919) 218-0527
Triangle and Eastern NC
Michael Dublin has been in substance-use prevention work for 33 years. He is the minister of South Central Church of Raleigh and works for the Drug Action of Wake County. Michael is very invested in the community and believes in the mission of Talk It Out. He specifically wants to work with the faith community in North Carolina to provide resources to prevent underage drinking. For Michael, this is ongoing work and has become more complex because of social media and the way our society changes so quickly. Often, faith communities do not know how to approach the issue, so they avoid it. Instead, Michael wants to incorporate it into part of health and wellness. In this way, Michael wants to work with Talk It Out to develop and utilize a user-friendly toolkit for congregation leaders to be effectively trained, increasing the sustainability of these programs.
Shirley Hart
Shirley.hart@abc.nc.gov
(910) 273-6137
Southeastern NC
Shirley was introduced to alcohol very early because her cousins were drinking, and she thought it was cool. After losing her mother at age nine, she used alcohol to cope with the pain. She didn't have anyone to talk to about the pain she was feeling. After going through this herself and seeing so many struggle, Shirley works to ensure that others have the support they need. Shirley has been in long-term recovery for 20 years and wants to create a safe space for kids to be able to talk to their parents about alcohol. She started the Tia Hart Recovery Program to help the youth because she knows they are our next generation. Through Talk It Out, Shirley is looking forward to working with churches and schools to help make the dangers of underage drinking an ongoing conversation topic.
Joe Marks
Joe.marks@abc.nc.gov
(828) 850-6541
Northwestern NC
Joe Marks grew up in a culture in which alcohol was glorified. Both his parents were alcoholics, and every event was accompanied by alcohol. Being in long-term recovery himself, Joe has a unique perspective that he has been able to incorporate into his work for years operating a halfway house and later working with coalitions. Joe considers anything he can do to prevent someone going into addiction is not just one life saved, but many, because of the impact on families, friends, and communities. Joe believes that giving youth and young adults the chance to make the right decision is an obligation we all have and working with Talk It Out allows him to do just that. Joe is excited to nurture the relationships already established in his region and continue to make connections with other coalitions to encourage all to work together on the same mission.
Elizabeth Montgomery
Elizabeth.montgomery@abc.nc.gov
(252) 258-7383
Northeastern NC
Elizabeth Montgomery has been working in prevention for 15 years. She currently is the director of ECU's regional training center. She has worked with diverse populations in public health with the prevention track. Becoming a mom brought even more passion into her field. Elizabeth is very passionate about communicating with youth and teens about the impact of underage drinking. She wants to encourage teens to learn to cope with the world without having to turn to alcohol. Elizabeth's goal with Talk It Out is collaboration, and to reach the maximum number of people possible, by working together to incorporate the message into their day, every day. She also wants to empower parents to talk to their children and children to talk to their peers because open conversations are how these conversations must start.
Kurtis Taylor
Kurtis.taylor@abc.nc.gov
(919) 247-7831
Northern NC
Kurtis Taylor has been involved with advocacy regarding prevention, treatment and recovery for years. Kurtis has a unique perspective, having first experienced alcohol at the age of 12. He has been in long-term recovery for 16 years. Kurtis is determined to help kids have a chance for a new and brighter future. Working with Talk It Out, Kurtis was amazed to learn about the science of underage drinking and wants to spread the word about how susceptible the teenage brain is to alcohol. Kurtis is the director of the Alcohol/Drug Council of North Carolina and is excited to have an opportunity to impact the system and public perspective with Talk It Out as well. Kurtis knows that the conversation about underage drinking is not always a comfortable conversation, but it is worth a bit of discomfort to impact a child's life.
Patti Tiberi
Patti.tiberi@abc.nc.gov
(828) 492-4092
Western NC
Patti Tiberi has worked in prevention for 15 years, as well as in addiction treatment as a clinician. Patti wants kids to realize that there are things other than drugs and alcohol to fill the holes in their lives. Patti takes a unique perspective by focusing on developing relationships with retailers and businesses in the community. She believes that everyone wants to make our communities better and safer, and a good place to start is by building strong relationships with retailers. Many of these retailers want to have a larger part in helping prevent underage drinking, so Patti wants to work with Talk It Out to provide the training and the voice for them to do so. Patti is the prevention coordinator for Mountain Strong, which has already allowed her to develop relationships in the community. In addition, Patti is planning on fostering relationships with law enforcement to further connect the community.